01 Jan 2022
Private sector to help mobilise financing for mega projects this year, Ali says at historic signing of local content bill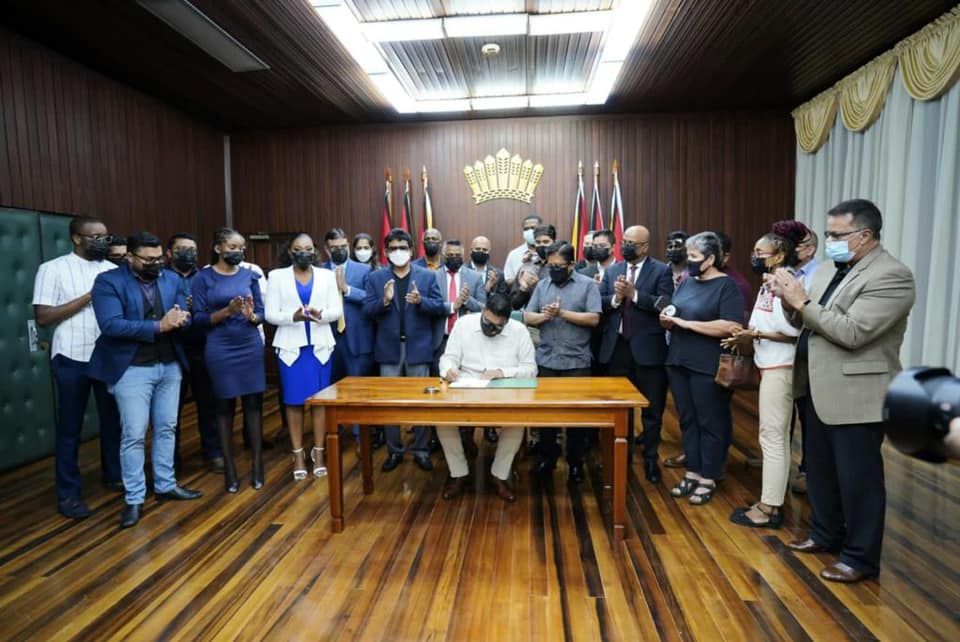 President of Guyana, Dr. Mohamed Irfaan Ali on Friday assented to the landmark Local Content Bill 2021 at a simple ceremony held at the Office of the President in Georgetown.
"It sets the framework for Guyanese to win, and that is what we're interested in," Mr. Ali told those gathered.
The President said that a win for Guyana and its citizens translates into a win for the region.
"We can assure this region and our global community that our prosperity will bring a better environment for the rest of the world."
He emphasised that his government's priority is to move Guyana and its citizens forward and that barriers must be dismantled to build a cohesive vehicle that would drive the country to prosperity.
He added that there are many initiatives and projects of "tremendous magnitude" that the government will pursue that will be put to the local private sector to "mobilise local financing and local involvement".
"In those projects, we would like to see all segments of the population involved, and we would like to see leadership from the private sector."
OilNOW understands private sector leaders have already been given the charge by Mr. Ali to approach their members and explore forming conglomerates that could undertake major downstream projects.
The Head of State also took the time to thank all of the stakeholders that were involved in the consultations that helped to craft the bill including "organisations, farmers, private sector [and] civil society".