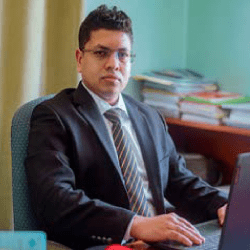 Joel Bhagwandin
Director, Business Intelligence & Analytics | Financial and Economic Analysis
,
Spherex Professional Services Inc.
Guyana
Joel Bhagwandin is a finance professional and researcher, a junior business executive and entrepreneur. Joel has more than fifteen years' experience in banking, corporate finance, management, consulting, and academia combined.
Throughout his career, he has thus far contributed to the growth and development of SMEs by helping them to raise funding from within the local capital market. To this end, he has successfully raised more than GY$6 billion (US$30 million) in both long-term financing for capital projects and short-term financing for working capital requirements.
Joel is also actively engaged in providing insights and analyses on a range of public policy, economic and macrofinance issues in Guyana for the past 5+ years. In this regard, he has authored more than 300 articles covering a variety of thematic areas.
Mr. Bhagwandin currently holds several leadership portfolios in the private sector; he is a Non-Executive Director of the Guyana Oil & Gas Energy Chamber (GOGEC), and Chairman for the Local Content Sub-Committee of the American Chamber of Commerce Guyana (AmCham). He is the former Executive Director (a.g) of the Private Sector Commission, the apex private sector body in Guyana and a former Senior Manager, Strategy and Transactions within a global professional services firm, Ernst & Young (Guyana).
Academically, Mr. Bhagwandin is the holder of a MSc. in Business Management (Banking) from Edinburgh Napier University. Joel is currently pursuing his second MSc. in Finance (Economic Policy) through the University of London–and simultaneously several professional financial analysts' certifications through the Corporate Finance Institute (CFI).